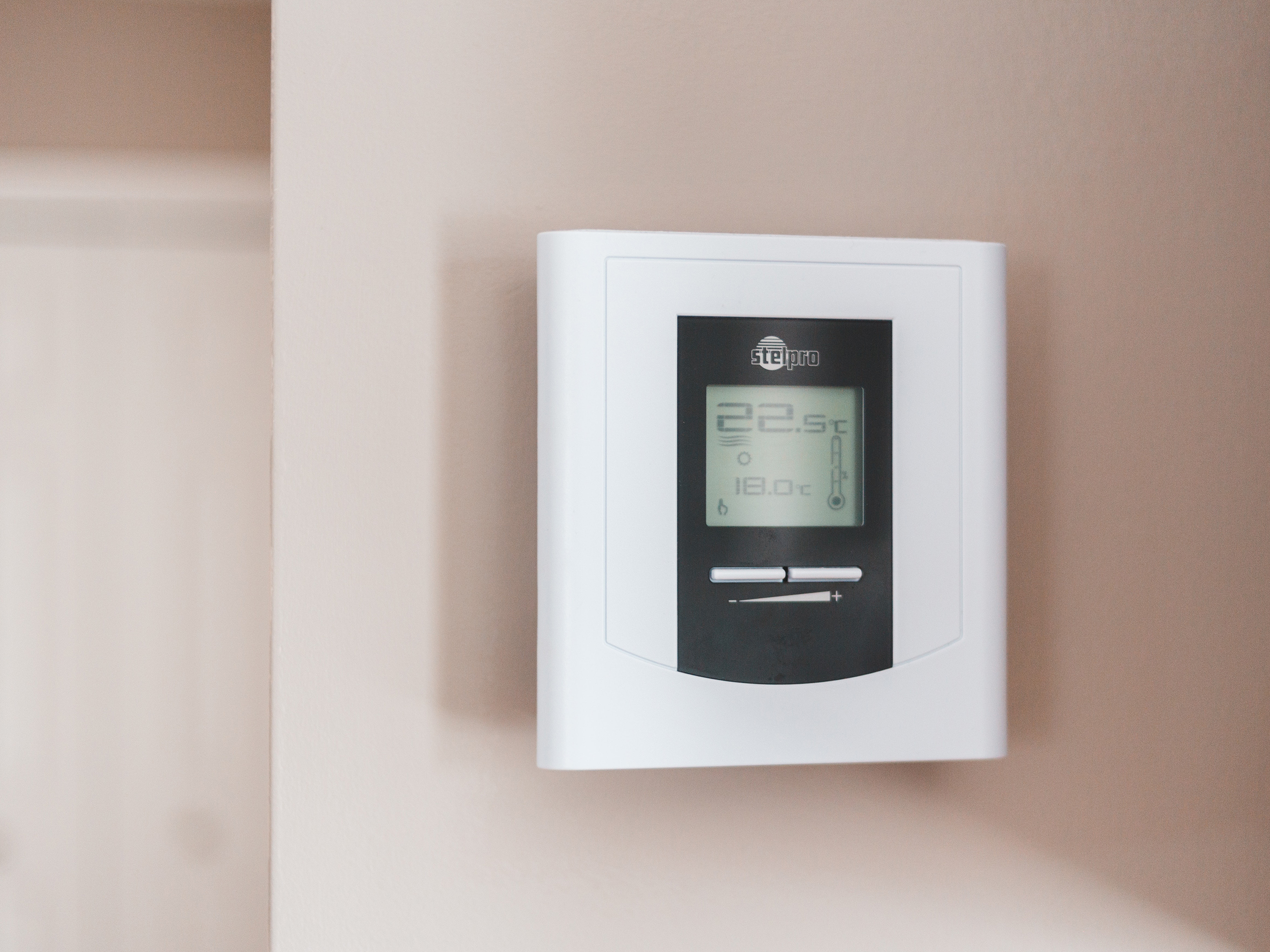 If you're looking for new ways to warm your home, you may have considered electric heating, and you may have also considered underfloor heating as an alternative. However, which is best for you and your home?
Page Contents:
What are electric radiators?
Electric radiators are an efficient, low carbon heating alternative to traditional gas-based central heating that many households are more familiar with. Electric heating is far more versatile than gas and can be pre-programmed, controlled remotely and even controlled by your voice with assistants like Amazon Alexa and Google Home.
Electric radiators work by being plugged into a power outlet, they do not require hard wiring, plumbing or pipe work.
The types of electric radiators
There are three types of electric radiators on the market today and these are ceramic core, oil filled and dry thermal.
Ceramic Core – These radiators consist of metal wires that are inside a ceramic block that supplies greater levels of radiant warmth, this makes ceramic radiators great for small and hard to heat areas. Heat and temperatures can also be maintained for a long period after the radiator has been switched off.
Oil Filled – Traditionally slower to heat than ceramic. The clue is in the name, thermal fluid (oil) circulates the radiator to produce and radiate heat, however these radiators take longer to reach their max temperature and are also slower to cool down.
Dry Thermal – These radiators use neither a ceramic core, nor oil. Iron heating rods are used within the aluminium body, these quickly radiate heat and have a quick cool down time.
What are the advantages of electric radiators?
Smart electric radiators feature many advantages such as a lightweight and portable design which makes them easy to install and position to your requirements. Smart programming via mobile apps and voice assistants such as Alexa and Google Home allow for easy controls and a hands-free approach to smart heating, it also allows for you to create heating schedules and turn on your radiators remotely, so when you get home it's the perfect temperature.
Furthermore, when in use, electric radiators are 100% efficient and all energy used to power the radiator is generated into heat, this ensures no heat is lost or wasted. You can also target specific rooms in your house rather than heating the whole house, this is where heat is wasted with traditional gas-based systems.
How can electric radiators be installed?
It couldn't be simpler! Electric radiators can be installed in two ways, either free standing or wall mounted. Free standing allows for the radiators to be placed anywhere in your house and freely moved around when required, this is a great benefit if multiple people share the radiator. Wall mounted installation provide a sleek appearance, and is perfect for rooms such as kitchens, living rooms and bedrooms.

What is underfloor heating?
Underfloor heating is self-explanatory, it keeps your feet toasty! It is a lot less complex than gas heating and similar to electric radiators, it doesn't require your existing pipework to operate.
Underfloor heating works by using cables that are connected to a thermostat and your main electrics. They are able to produce heat through radiation but can also create heat via convection and conduction due to being placed in the floor.
The types of underfloor heating
There are four main types of underfloor heating which are foil mat, sticky mat, loose wire and inscreed cables.
Foil Mat – This is where heat cables are pre-spaced within an aluminium mat, this is then placed over the original flooring and the floating floor is placed directly above the foil mat.
Sticky Mat – A sticky mat is similar to a foil mat; heat cables are pre-spaced however this is on a sticky mesh which is then set in a thin layer of cement. Sticky mat underfloor heating works with any floor type.
Loose Wire – This is an unspaced reel of wire that can be hand fitted. This style of underfloor heating is useful for awkward floor plans and corners, it is versatile and adaptable to suit your requirements and floor situation.
Inscreed Cable – This is where heat cables are installed directly into your floor. This style of underfloor heating is the most complex to install, however this is also the most efficient.
The advantages of underfloor heating
The main advantage of underfloor heating is it's invisible, the ultimate space saving heating solution for rooms with limited wall space. This is something that bulky radiators cannot compete with.
Underfloor heating can also last decades before it needs replacing, this lifespan will outlive an electric radiator. Hot air rises and this makes floors a great place to install heating as the heat will rise and circulate around the whole room efficiently and effectively.
Underfloor heating also uses three different heating types which are radiation, convection and conduction and they all have an equal output and provide effective warmth.
The disadvantages of underfloor heating
Underfloor heating does have its downsides and the first one is the complex installation. This installation isn't a simple DIY job unlike electric radiators and requires a professional to install the underfloor heating, this will instantly increase the total costs of your new heating system.
Furthermore, underfloor heating only works in rooms that have either concrete or wooden flooring and it is not suitable for on demand heating, the system can take a couple hours to reach optimum output, this isn't ideal for when you need a quick heating solution. Finally, underfloor heating requires a large floor area to work optimally so for small rooms, electric radiators are the most efficient heating option.
How can underfloor heating be installed?
Underfloor heating installation is far more complex and will require a professional to consult and install the new system. This will add to the total cost and may cost significantly more than expected, depending on who installs your underfloor heating. Electric radiators are a far simpler and cheaper installation and do not require a professional.
Maintenance
Electric radiators require very little maintenance, and this makes them easy to live with and manage, with no connection to pipework or a fuel source this massively increases the products safety. Underfloor heating does typically have a longer lifespan than an electric radiator, however if a problem arises, fixing the problem is far more complex and may require new flooring, this will also need to be completed by a professional.
Efficiency
Electric radiators are built for efficiency and feature many energy and money saving features such as auto switch off and heat schedules. Underfloor heating can be inefficient; however, this depends on your floor type and levels of insulation as this is where heat can be lost and also wasted.
Electric radiators by Rio Heating
If you are looking for a low maintenance and energy efficient electric radiators, then why not look at the Rio Eco? The Rio Eco features both Amazon Alexa and Google Home compatibility, a hands-free approach to smart heating!
If you have any questions regarding our Rio Eco electric radiator, please visit our FAQ page where we have answered a handful of questions, we may have already answered yours! If we haven't already answered yours, please do not hesitate to contact our friendly team today who will be more than happy to help!