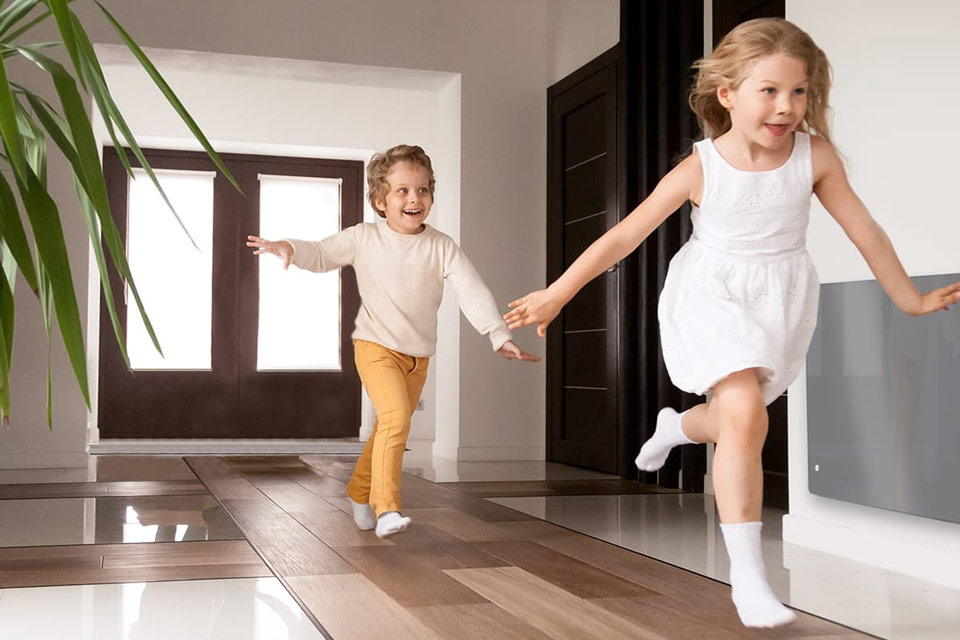 If you've considered upgrading your central heating system recently you will have heard of smart heating. Smart heating is the future of domestic heating solutions and is rapidly being adopted across the planet.
Page Contents:
What is smart heating?
In a nutshell, smart heating is the ability to control your entire home's heating system from an internet enabled device; this could be your smartphone, tablet, smart thermostat or smart speaker.
With the use of internet connectivity, you can control your central heating system from anywhere, at any time, as well as micro-managing the temperature and heating schedule of each individual room in your home, providing you with a comfortable temperature all year round.
Where should you install smart heating?
There's no one answer to where you should install smart heating because everyone's needs are different. Instead, there are several considerations that you should think about while planning your heating solution.
Zoning
When planning your smart heating solution, you shouldn't think about your house as rooms, but rather as zones. Zoning allows you to better visualise the placement and effectiveness of your heaters, as some users may have areas that would be considered two separate rooms but a single zone, such as an open plan kitchen and dining room. Consider each zone to be an area that will be heated separately.
Don't share thermostats across multiple zones
While it's not impossible to use a single thermostat to control multiple heating zones, it is not recommended if you want to achieve the best heating results in your home. By having a different thermostat for each heating zone, the entire solution will be more effective as the average temperature readings are more accurate and can be better micro-managed across the entire solution.
Consider schedules and lifestyles
To improve efficiency, you should consider the schedules and lifestyles of all the occupants of your home. Not all rooms are going to need to be heated at the same time.
For example, bedrooms, typically, only need to be heated in the morning and then can be set to an ambient background temperature and living spaces won't need to be heated in the morning during your working week but will at the weekend when you're at home and need to be kept comfortable for most of the day.

How to install smart heating
Installing smart heating in your house couldn't be any easier. For example, our Rio Arc smart electric heater can be set up and running in seconds:
Open and remove the packaging.
Stand or mount the heater in your desired location.
Plug in and switch it on.
Pair the heater with your device by scanning the QR code.
Sit back and warm up.
Not every smart heater will have the same installation process, however they should have been designed with convenience in mind allowing you to set up in as little time as possible.
What are the benefits of smart heating?
The exact benefits of smart heating are unique to each individual depending on needs and location. However, some benefits are common among most people who decide to upgrade their home heating solution:
Improved Convenience: Smart heaters are the pinnacle of convenient and hassle-free heating allowing you to control the temperature from anywhere using mobile applications on your smartphone. They also provide you with extensive automation features which can be fine-tuned to your behaviour and schedule.
Economic: Smart heating not only makes your life easier but it's easier on the bank account. Having your heaters operate only when they need to reduces your overall energy consumption and therefore lowers your bill at the end of the month.
Eco-Efficient: Smart heaters and radiators (such as our Rio Eco) are eco-friendly and extremely energy efficient. With no operational combustion or emissions, smart electric radiators are better for the environment and your wallet.
The future of smart heating
Artificial Intelligence (AI) is already being implemented into smart heating products to track and analyse your daily behaviour. The information that it gathers is used to tweak and perfect an algorithm that will find the most efficient method of heating your home.
It considers the times you're at home, the rooms (or zones) that you use the most and when, the average temperature that each zone is set to, and many more variables. The use of AI in smart heating will significantly improve home heating automation, making a convenient and efficient solution even more so.
Smart heating by Rio Heating
If you are in the market for smart heating, then look no further! Our Rio Eco smart heater is the solution you are after. Simply control your heating from your mobile device or with your voice via Google Home or Amazon Alexa.
If you have any questions regarding our Rio Eco electric radiator, please visit our FAQ page where we have answered a handful of questions, we may have already answered yours! If we haven't already answered yours, please do not hesitate to contact our friendly team today who will be more than happy to help!